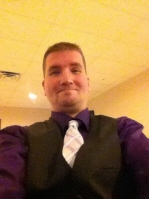 Obituary for Bert John Hansen
Bert John Hansen Jr., 42 of Richford/ St. Albans passed away unexpectedly on Saturday morning, April 7, 2018.

Bert was born in Haverhill, Mass., July 28, 1975. He became a permanent Vermonter as a child and has grown up here throughout Franklin County since. He went to St. Albans City School where he graduated to move onto Bellows Free Academy high school. After high school, Bert became a long time employee of the Old City Feed and Lumber Co. now Sticks and Stuff. It took him some time working from job to job to figure out what it was he wanted to do for work. He even worked with his two brothers in 2000 at the old Milton Wood Products plant in Milton, Vt., but it was Peerless Clothing Inc. where Bert decided to make his place of employment. He has been a part of Peerless Clothing Inc. where Bert decided to make his place of employment. He has been a part of Peerless Company for almost eight years.

Bert is loved by many and all who were an important involvement in his life. He always knows how to put a smile on people's faces and make you laugh for what seemed like forever. He loved spending time with his nieces and nephews whenever he could. He was passionate about being a part of the gay rights activist community movement and gender rights. Bert loved making people bracelets all the time and drawing also. He enjoyed playing video games, hiking, never getting off his cell phone, consistently sleeping and ever since he was young, his candy dishes were never empty. He was always the life of a party and he was a very generous and caring person. He was a gentle soul with the heart of a lion and loved to help others. He recently became a volunteer firefighter with the Richford Town Fire Department.

Bert is survived by his mother: Dorothy Gebo, sister Leigh Snide and her husband Fred Snide of North Hero, brother Sami Hansen and his wife Holly Hansen of St. Albans, sister Carrie Belatski and her husband Peter Belatski of St. Albans, brother Jacob Hansen and his girlfriend Karleen Patterson of Richford, along with her three children, Sissy, Robert and James. He is also survived by several nieces and nephews: Josh Hansen, Kyra Hansen, Malichi Hansen, Briana Machia, Nathanial Belatski, adopted brother Justin Rockwell of Alburgh, along with many cousins, other family members, three great nephew and nieces, Bryson, Allyia and Aubrey, and friends.
He's predeceased by his father: Bert John Hansen Sr., his paternal grandparents: Norman and Margaret Gebo, his paternal grandfather Kenneth Hansen, and his paternal grandmother Beverly Gosselin.

Services will be held at The Church of the Rock on Friday, April 20 from 6-9 p.m. Memorials may be made out to Richford Town Fire Department in care of Andy Powd, 1083 Richford Road, Richford, Vt. 05476. Arrangements are entrusted to the Brady and Levesque Funeral Home, where online condolences may be made at www.bradyandlevesque.com.
Previous Events
Service
Church of the Rock
Fairfax Road
Saint Albans, VT 05478
Memorial Contribution
Richford Fire Department
1083 Richford Road
Richford, Vermont 05476