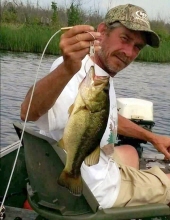 Obituary for Walter L. Bushey
Walter L. Bushey passed away Friday morning, March 16, 2018 at the Mass General Hospital, losing his battle with cancer with his loving family at his side. He was born on September 20, 1959 in St. Albans, VT, the son of James, Sr., and Paula (Kohl) Bushey. He spent his early life farming, but most of his years were spent working in carpentry.

Walter was very close to his family and friends, very caring and supportive – always lending a helping hand, or fixing something for somebody and never expecting anything in return. He worked very hard, but he also enjoyed his life. He loved snowmobiling, four-wheeling, hunting, boating, and especially fishing. Walter also had a passion for cooking. He cooked all the holiday meals for our family gatherings for years. He also had a passion four country music. He enjoyed singing, dancing and family get togethers.

Walt was a warm friendly person, full of goodness and generosity. He touched our lives in so many ways. He will be remembered as a wonderful brother, a great friend, outdoors man, lover of life, a friendly face and one who was always giving a helping hand.

Walt is survived by his mother, Paula Bushey of Swanton, his children, Kyle, Brittany, Diane and Lori, his grandchildren his siblings, James Jr., and his wife Marcia, Sylvia Coderre and her husband Mitchell, Wilma McAllister and her husband David, and Robert Bushey, a special friends Cindy Gress and Robin Ashline, along with several nieces, nephews. He was predeceased by his father James Bushey, Sr. his brother Donald, and niece Jaime. He will be also missed by his circle of friends that enjoyed outdoor activities with him.

At Walter's request, there will be no formal funeral will take place, but a small celebration of his life will be held with family and friends. Walter's care is entrusted to the Brady & Levesque Funeral Home, where online condolences may be shared with his family at www.bradyandlevesque.com.
Events