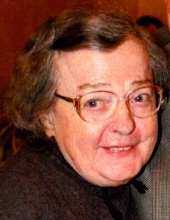 Obituary for Mary E. Taylor
St. Albans has lost one of its most prolific joke tellers, on Saturday, October 7, 2017 Mary S. Taylor passed away peacefully at St. Albans Health and Rehab. Although Mary requested that no mention of her passing be made however, she touched too many lives in our community not to acknowledge this sad day.

Mary was born on April 28, 1930 to George and Beatrice Sheets in Swanton, Vt. After graduating from Swanton high school, Mary traveled west to California working in varied careers for over 30 years at which point home was calling and Mary returned to Vermont. Back in Vermont, Mary finished her working career with the U.S. Postal Service. Once retired Mary concentrated on what she loved most; making people laugh and feeling loved. Mary volunteered countless hours at all the nursing homes in the area, bringing a smile to the faces of residents and staff alike. Mary spent many summer nights keeping score at the local little league games, she loved watching the kids play ball, bringing countless baskets of cookies and brownies to the them over the years, always ready to give them a hug and words of encouragement. She loved the Yankees and any team that beat the Red Sox. Mary treasured being a resident of Four Winds, working on puzzles and playing cards with her neighbors and friends. Mary looked forward to going out for breakfast in the morning and Chinese for lunch... daily! When Mary could no longer stay by herself, she found a home at St. Albans Health and Rehab, Mary loved it there and was treated like a queen. A special thanks to the entire staff for their generosity and care for Mary, especially her nurse Nicole, who made her finals hours as comfortable as possible, you did an amazing job!!

Mary was predeceased by her parents and all her siblings. Mary leaves many friends, she will be extremely missed by her dear friend Lisa Manahan, who enjoyed spending time with Mary, whether playing cards, finding a missing puzzle piece or just good conversation. Lisa was always there for her, Mary loved her like the daughter she never had.

At Mary's request there will be no services. Arrangements are entrusted to the Brady & Levesque Funeral Home and Commemorative Services where memories of Mary can be shared at: www.bradyandlevesque.com.