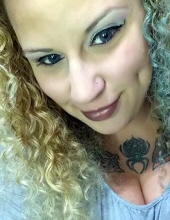 Obituary for Amanda B. Atkins
Ms. Amanda Atkins, age 33, of Fairlee VT, passed away unexpectedly on Thursday, May 18, 2017 in Cambridge. She was born on May 31, 1983 in Saint Albans, VT, the daughter of Tracy Krebser and Lawrence Garrison. Amanda was a gifted tattoo artist who enjoyed freelance work.

Amanda is survived by her children, Ralph, Ryan, and Randall Stine of Saint Albans, her mother, Tracy Krebser and her husband Frederick of Westminster, SC, her father Lawrence Garrison of Fairlee, her sister LaChelle LaRose of Winooski, and several aunts, uncles, cousins, and close friends. She was predeceased by her brother Larry Garrison.

At this time, there will be no funeral services. Online condolences may be sent to her family at the Brady & Levesque Funeral Home website: www.bradyandlevesque.com. Arrangements are entrusted to the Brady & Levesque Funeral Home and Commemorative Services.
Events