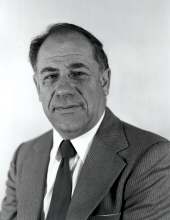 Obituary for Jean- Paul Bedard
Jean-Paul Bedard, age 85, passed away at his home Sunday afternoon, March 12, 2017, surrounded by his loving family and friends. Paul was born in Montreal, Quebec on June 20, 1931, son of the late Rene and Mary Rose (Benoit) Bedard. The family moved to a farm in Sheldon, Vermont when he was fourteen years old and this was the first time he saw a cow. Paul owned and operated Bedard Refrigeration for many decades, carrying on the family tradition. While making a service call at the Devino Farm in Milton, he met the love of his life Lorraine, whom he married on February 21, 1961.

In addition to farming and being a Master Refrigeration Technician, Paul served as a Deputy Sheriff for the Franklin County Sheriff's Department for many years. He achieved deep satisfaction in his service and he relayed many stories; one of his favorites being the first person to drive on Interstate 89 prior to the official opening, completing a transport from St. Albans to Waterbury.

His life was his family, especially his grandchildren. He enjoyed spending time with them at his camp on St. Albans Bay, trips to Disney in his motor home and eventually his winter home in Ocala, Florida where he grew oranges and grapefruit, which he shared with his friends and customers in Vermont. He discovered golf at a late age, when his son Jimmy dragged him to a course in Florida. It became his passion.

Paul's family includes Paul Roy Bedard and his son John; Denise Bedard-Comstock, her husband Everett and children Chris and Deni-Marie; Michael, his wife Donna and children Scott and Travis; Deborah Coutu, her partner Patrick Malone and her children Corey, Marc and Bryea; his late son James and his wife Suzanne and children Shannon and Paige; Chad Bedard, his wife Suzanne, and children Jordan, Justin, Jasmyn, Jayden, Jaylin and Jilyan and twelve great-grandchildren. His surviving siblings include: Andre & Theresa Bedard; Pierre & Rejane Bedard; Louise & Norman Boisvert; Frances & Donald Bessette and Rene & Helene Bedard. Sister-in-laws include: Winnie Bedard; Di'Anne Bedard; Shirley Densmore; Corrine Butler; Joan Jenkins and many nieces, nephews and cousins. Paul was predeceased by his parents; Lorraine his wife of 47 years; his son James Bedard; his special companion Jacqueline Bilodeau; his sisters Denise Richard and Claudette Gadouas; brothers Robert and Guy Bedard; brother-in-laws William Richard, Bernard Gadouas and Mike Devino; sister-in-laws Ila Winegar and Delma Karko and nephew Jeffery Gadouas.

A Special thank you to Dr. Carol Thayer and her staff; The Franklin County Home Health Agency; and Charlie Coutu. A heartfelt thank you to the very special women who made it possible to allow Paul to remain in his beloved home. They provided love, care and companionship for the last couple years and are now family:
Audra Albertus; Sandy Brodeur; and Judi Rainville.


A memorial service and internment is July 1, 2017, at 10:00 AM at the Sheldon Casino Pavillion, 141 Casino Road, Sheldon, VT. We welcome all family, friends and business associates to share in the celebration of Paul's life. A coffee and social hour will be held at the pavilion from 9:00 AM until the time of the service. Burial will follow at St. Anthony's Catholic Cemetery in Sheldon. Online condolences and memories may be shared with his family at the Brady & Levesque Funeral Home website: www.bradyandlevesque.com. Arrangements are entrusted to his friends at the Brady & Levesque Funeral Home and Commemorative Services..
Previous Events
Visitation
Sheldon Casino Pavilion
141 Casino Road
Sheldon, Vermont 05458
Coffee and Social Hour
Memorial Service
Sheldon Casino Pavilion
141 Casino Road
Sheldon, Vermont 05458
Graveside Service
St. Anthony's Cemetery
100 Mill Street
Sheldon Springs, Vermont 05483
Cemetery Details
Location
St. Anthony's Cemetery
100 Mill Street
Sheldon Springs, Vermont 05483
Memorial Contribution