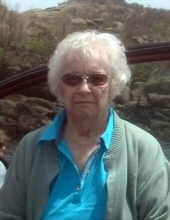 Obituary for Ruth Jacobs
Mrs. Ruth A. Jacobs, age 82, passed away unexpectedly December 21, 2016 at the Villa Rehab Center. She was born in Burlington, September 8, 1934, daughter of the late Winslow "Winny" and Elanor (Hakey) Wilkins. She married Harold "Jake" Jacobs, December 4, 1954.

Ruth worked at the Mary Fletcher Hospital for 26 years as a cashier in the cafeteria. After retiring, she enjoyed water aerobics, ceramics, painting, and working outside in her garden. She was an avid reader of Stephen King novels. Ruth and Jake enjoyed their spring and fall trips to Wells, Maine, every year. She also loved her cat Pumpkin, whom she took in off the street.

She is survived by her husband of 62 years, Harold of St. Albans, and a daughter Betsy Ditman and her husband Francis of Waterville, ME.

At Ruthie's request, in lieu of a service and flowers, memorial donations may be made to the Franklin County Animal Rescue, 30 Sunset Meadows, St. Albans, VT 05478. Online condolences and memories may be shared at the Brady & Levesque Funeral Home website: www.bradyandlevesque.com. Arrangements are entrusted to the Brady & Levesque Funeral Home and Commemorative Services.
Memorial Contribution